Category Archives:
method
After about two years of thinking and coding, my colleague Erik Borra and myself are happy to announce that the Digital Methods Initiative Twitter Capture and Analysis Toolkit (DMI-TCAT) is finally available for download. DMI-TCAT runs in a LAMP environment and allows for capturing data in a number of different ways via both the streaming and search APIs, and provides a whole battery of analytical approaches to investigating tweet collections. For a more detailed description check out the wiki on github. There is also a paper (paywall, preprint will follow) that details the tool and the thinking behind it.
"Of course, in the study of such complicated phenomena as occur in biology and sociology, the mathematical method cannot play the same role as, let us say, in physics. In all cases, but especially where the phenomena are most complicated, we must bear in mind, if we are not to lose our way in meaningless play with formulas, that the application of mathematics is significant only if the concrete phenomena have already been made the subject of a profound theory."

A. D. Aleksandrov, A General View of Mathematics. In: A. D. Aleksandrov, A. N. Kolmogorov, M. A. Lavrent'ev, Mathematics: Its Content, Methods and Meaning. Moscow 1956 (trans. 1964)
Over the last couple of weeks, things have heated up considerably for Google – on the mobile side with the start of a patent war, but also in the search area, the core of the company's business. Led by Senator Mike Lee (a Utah Republican), the US Senate's Antitrust Subcommittee has started to probe into certain aspects of Google's ranking mechanisms and potential cases of abuse and manipulation.
In a hearing on Wednesday, Lee confronted Eric Schmidt with accusations of tampering with results and the evidence the Senator presented was in fact very interesting because it raises the question of how to show or even prove that a highly complex algorithmic procedure "has been tampered with". As you can see in this video, a scatter-plot from an "independent study" that compares the search ranking for three price comparison sites (Nextag, Pricegrabber, and Shopper) with Google Price Search using 650 shopping related queries. What we can see on the graph is that while there is considerable variation in ranking for the competitors (a site shows up first for one query and way down for another), Google's site seems to consistently stick to place three. Lee makes this astounding difference the core of his argument and directly asks Schmidt: "These results are in fact the result of the same algorithm as the rankings for the other comparison sites?" The answer is interesting in itself as Schmidt argues that Google's service is not a product comparison site but a "product site" and that the study basically compares apples to oranges ("they are different animals"). Lee then homes in on the "uncanny" statistical regularity and says "I don't know whether you call this a separate algorithm or whether you're reverse engineered a single algorithm, but either way, you've cooked it!" to which Schmidt replies "I can assure you that we haven't cooked anything."
According to this LA Times article, Schmidt's testimony did not satisfy the senators and there's open talk about bias and conflict of interest. I would like to add to add three things here:
1) The debate shows a real mismatch between 20th century concepts of both bias and technology and the 21st century challenge to both of these question that comes in the form of Google. For the senator, bias is something very blatant and obvious, a malicious individual going to the server room at night, tempering with the machinery, transforming the pure technological objectivity into travesty by inserting a line of code that puts Google to third place most of the time. The problem with this view is of course that it makes a clear and strong distinction between a "biased" and an "unbiased" algorithm and clearly misses the point that every ranking procedure implies a bias. If Schmidt says "We haven't cooked anything!", who has written the algorithm? If it comes to an audit of Google's code, I am certain that no "smoking gun" in the form of a primitive and obvious "manipulation" will be found. If Google wants to favor its own services, there are much more subtle and efficient ways to do so – the company does have the best SEO team one could possibly imagine after all. There is simply no need to "cook" anything if you are the one who specifies the features of the algorithm.
2) The research method applied in the mentioned study however is really quite interesting and I am curious to see how far the Senate committee will be able to take the argument. The statistical regularity shown is certainly astounding and if the hearings attain a deeper level of technological expertise, Google may be forced to detail a significant portion of its ranking procedures to show how something like this can happen. It would, of course, be extremely simple to break the pattern by introducing some random element that does not affect the average rank but adds variation. That's also the reason why I think that Lee's argument will ultimately fizzle.
3) The core of the problem, I would argue, is not so much the question of manipulation but the fact that by branching into more and more commercial areas, Google finds itself in a market configuration where conflicts of interest are popping up everywhere they turn. As both a search business and an actor on many of the markets that are, at least in part, ordered by the visibility layering in search results, there is a fundamental and structural problem that cannot be solved by any kind of imagined technical neutrality. Even if there is no "in house SEO" going on, the mere fact that Google search prominently links to other company services could already be seen as problematic. In a sense, Senator Lee's argument actually creates a potentially useful "way out": if there is no evil line of code written in the dark of night, no "smoking gun", then everything is fine. The systematic conflict of interest persists however, and I do not believe that more subtle forms of bias towards Google services could be proven or even be seriously debated in a court of law. This level of technicality, I would argue, is no longer (fully) in reach for this kind of causal demonstration. Not so much because of the complexity of the algorithms, but rather because the "state" of the machine includes the full structure of the dataset it is working on, which means the full index in this case. To understand what Google's algorithms actually do, looking at these algorithms without the data is no longer enough. And the data is big. Very big.
As you can see, I am quite pessimistic about the possibility to bring the kind of argumentation presented by Senator Lee to a real conclusion. If the case against Microsoft is an indicator, I would argue that this pessimism is warranted.
I do believe that we need to concentrate much more on the principal conflicts of interest rather than actual cases of abuse that may be simply too difficult to prove. The fundamental question is really how far a search company that controls such a large portion of the global market should be allowed to be active in other markets. And, really, should a single company control the search market in the first place? Limiting the very potential for abuse is, in my view, the road that legislators and regulators should take, rather than picking a fight over technological issues that they simply cannot win in the long run.
EDIT: Google has compiled its own Guide to the Hearing. Interesting.
Simondon's Du mode d'existence des objets techniques from 1958 is a most wondrous book. It is not only Simondon's theory of technology in itself that fascinates me, but rather the intimate closeness with particular technical objects that resonates  through the whole text and marks a fundamental break with the greek heritage of thinking about technology as a unified and coherent force. When Simondon reasons over numerous pages on the difference between a diode and a triode, he accords significance to something that was considered insignificant by virtually every philosopher in history. By conferring a sense of dignity to technology, a certain profoundness, he is able to see heterogeneity and particularity where others before him just saw the declinations of the singular principle of techné. In a distinctly beautiful passage, Simondon argues that "technological thinking" itself is not totalizing but fragmenting:
"L'élément, dans la pensée technique, est plus stable, mieux connu, et en quelque manière plus parfait que l'ensemble ; il est réellement un objet, alors que l'ensemble reste toujours dans une certaine mesure inhérent au monde. La pensée religieuse trouve l'équilibre inverse : pour elle, c'est la totalité qui est plus stable, plus forte, plus valable que l'élément." (Simondon 1958, p. 175)
And my translation:
"In technological thinking, it is the element that is more stable, better known and – in a certain sense – more perfect than the whole; it is truly an object, whereas the whole always stays inherent to the world to a certain extend. Religious thinking finds the opposite balance: here, it is the whole that is more stable, stronger, and more valid than the element."
Philosophical thinking, according to Simondon, should strive to situate itself in the interval that separates the two approaches, technological thinking and religious thinking, concept and idea, plurality and totality, a posteriori and a priori. Here, the question of How? is not subordinate to the question of Why? because it is the former that connects us to the world that we inhabit as physical beings. Understanding technology means understanding how the two levels relate and constitute a world. There are two forms of ethics and two forms of knowledge that must be combined both intellectually and practically. Simondon obviously strives to do just that. I would argue that Philip Agre's concept of critical technical practice is another attempt at pretty much the same challenge.
After trying to map the French version of Wikipedia a couple of days ago, I've played around with the much bigger English version (the dbpedia file I worked with contains 130M links between Wikipedia pages in a cool 20GB) this week-end and thanks to a rare lucid moment I was able to transform that thing into a .gdf that is small enough to be opened in gephi. I settled for the 45K pages with the most links (undirected) and started mapping. All three maps I built use the OpenOrd layout algorithm (1000 iterations). The first uses the modularity measure for "community" detection and colors text accordingly (click on the image for a very large version):

The second uses a grey color scale to express the degree (number of links) of a page:
Finally, the same map, but with a different color scale (light blue => yellow => red):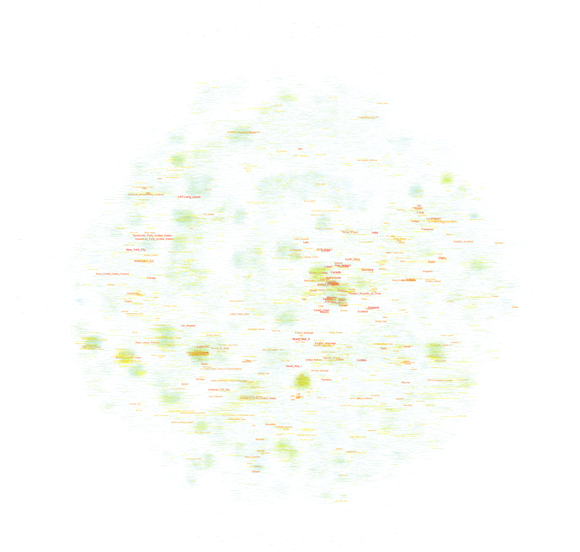 Every version helps with certain readability issues and you can download all tree of the maps as a big .psd so you can easily switch between the different modes.
When comparing these maps with their French counterpart, there are several things than are quite remarkable:
Most importantly, there is no cluster that I would qualify as "common culture" or "shared knowledge". There is most certainly a large, dense zone at the center but while the French one draws in all kinds of topics, this version has worldwide country information only. I would prudently argue that the English version of Wikipedia shows a more globalized picture of the world, even if there is a large zone of pages on the left that deals with the United States. It's a bigger and more heterogeneous world that emerges, but there still is a dominant player.
Sports is even bigger on the English version and typically American sports (Baseball, NASCAR, etc.) show up on the left in smaller, denser clusters compared to the gigantic football (soccer) area on the center to bottom right.
The Sciences are smaller but entertainment (TV, popular music, comic books, video games, etc.) is much more present. At least at this level of observation.
There are some seriously "strange" clusters, such as the dense yellow zone on the far right halfway between top and center that shows a group of Russian painters I have never heard of. Not that I'm an expert but I've found little trace of any other painters. This shows the weakness of my selection method by link degree – if there was a way to select nodes by page-views, the results would probably be very different, at least for our Russian painters. But it also shows that despite having become a rather respectable Encyclopedia with a quite classic subject outlook, Wikipedia still is a space for off-the-track topics and for communities that are so passionate about a certain subject that they will groom it and grow it.
I plan on releasing the scripts used to build these maps in the future but I want to try out a couple more things before that, most particularly a version that only takes into account in-links, which should reduce the presence of certain "distributor" pages ("events in 2010″,"people alive", etc.).